This quilt turned out better than I had hoped!
Does anyone get nervous when they put the quilt in washer for the first time?  I always hold my breath when I open the washer and hope and pray that when I open the lid the quilt is still in one piece.  Never before had I hoped and prayed as hard as I did when I washed this quilt, because it was such a labor of love, and from start to finish took well over 40 hours to complete.  It was such a relief when everything was intact!
The prewash measurements were 95 x 95.  The post wash measurement is 88.5 x 88.5.
Here it is in all its glory (it's a queen size quilt shown on a king size bed).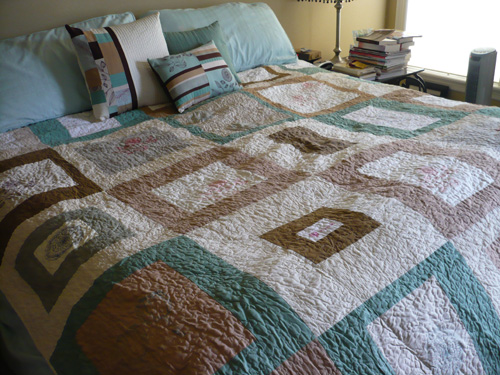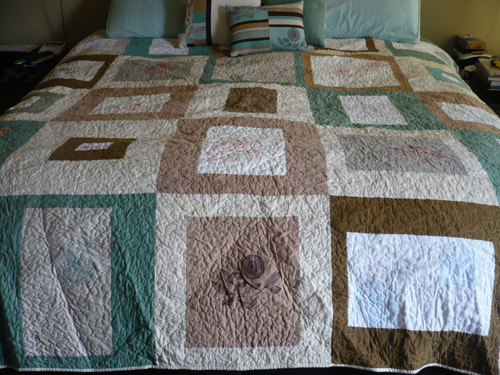 In this center vertical row there are 3 blocks where I decided not to quilt over the painted flower, because I didn't want the quilting to take away from the flower.  I thought that darker fabrics with the darker painted flowers needed to stand out and I thought the quilting would obviously compete with the flowers.  So the brown painted flower on brown fabric framed with cream, as well 2 and 3 blocks above this block are the ones I left the flowers unquilted.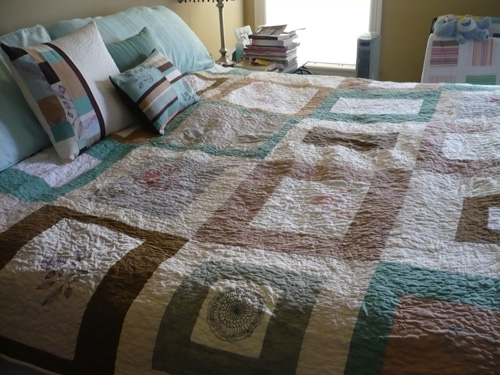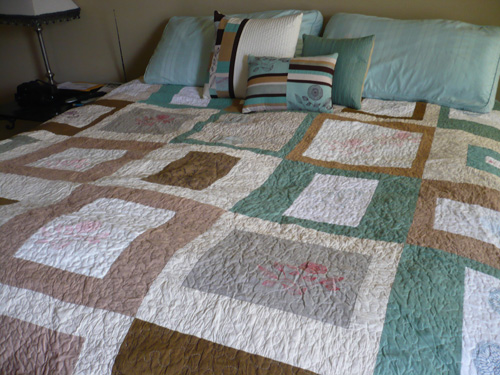 I arranged the blocks so that on the diagonal starting from the top left all of the blocks are the same color…can you see that?  It might be more visible in the second picture.