7 1/2 hours and 25 filled bobbins later (that is not a typo…it took 25 bobbins to finish this quilt!!!), I finished quilting the Rocqua Rhythm quilt.  As I mentioned here, my stippling is getting tighter, and it keeps getting tighter.  I certainly need to figure out a way to go bigger with my quilting.  I hope I can prove the lady in my local quilt shop wrong when she said "once you go small you can never go back."
Even though it took me a very long time to quilt, I do love how it turned out.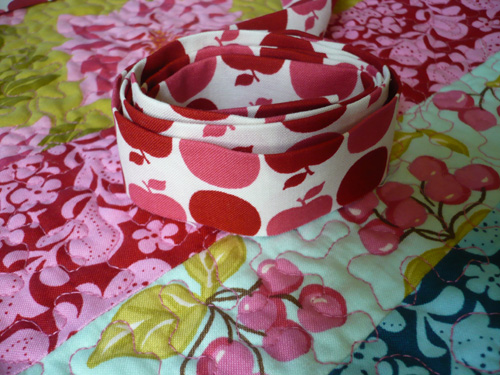 Anyway, now it's on to the binding.  I now have the binding attached to the front, and now I need to hand stitch the binding to the back.  I haven't had a whole lot of motivation to do this (perhaps because it took so long to quilt), but hopefully I can get the binding done soon, because I absolutely love this quilt!