A queen sized quilt is the biggest quilt I've ever made.  It was a lot of work, but it was also very rewarding.  It's been about 1 year since I've finished that quilt, and now I've got the itch to do something big all over again.  But this time I've got my eyes on making a KING sized quilt for my bed!  Am I crazy?
So here I am curled up under a quilt, with the fire in the background, and reading up about quilting large quilts.  I must admit it is intimidating, but I think I may just go for it.  I toyed with the idea of just making the quilt top and sending it out to be quilted, but part of me wants to accomplish this daunting task so that I can say this quilt is made 100% by me (and my beloved sewing machine).
I started collecting the Al Fresco line by Marcus Fabrics about 18 months ago.  I got the fat quarters and yardage that I have out this morning and looked at them (and petted them 😉 ), and then I went through one of my over flow drawers (read: hubby doesn't utilize one of his dresser drawers to its capacity, so I sort of stash fabric there) looking for something else and discovered that I have an additional 16 fat quarters!  I did a happy dance!!  Not to self: look at fabric more often to have a better idea of what I actually have.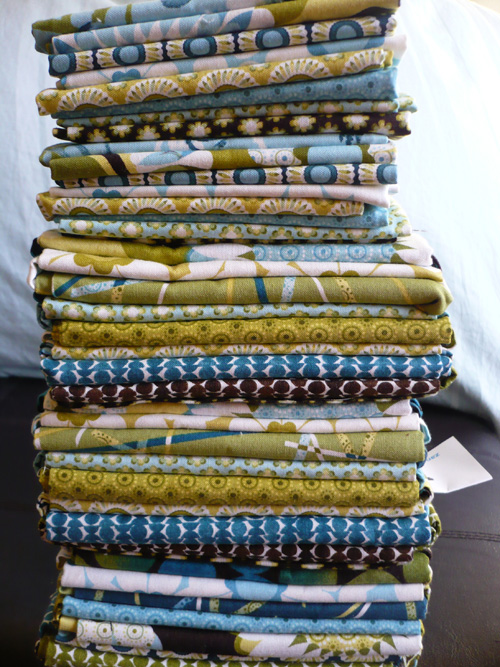 Fat Quarters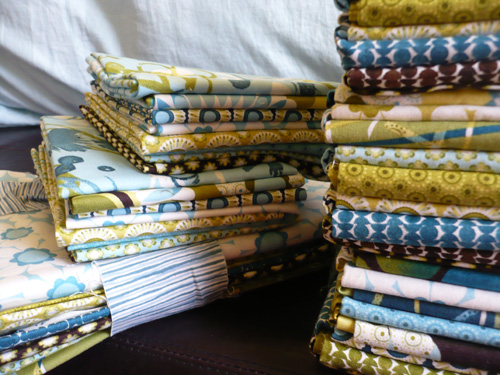 So here we are.  Do I attempt this task?  I just may, and since I just ordered some extra wide backing just for this project, that may be the incentive I need to actually do this!
Now I'm asking for a little bit of help.  I'm using a pattern by Atkinson Designs in the Happy Hour pattern book, and the cover picture is of the blocks that are 14.5 inches, but there's also a pattern for 9 inch blocks.  Shall I go the 9 inch route or 14.5 inch route?  The 9 inch blocks would mean I need 143 blocks and the 14.5 inch blocks would mean I need 56 blocks.  I'm thinking that the 14.5 inch blocks would be easier because there would be fewer seams, thus less quilt weight, but I do love the look of the smaller blocks.  So what do  you think I should do, the 9 inch blocks or the 14.5 inch blocks?