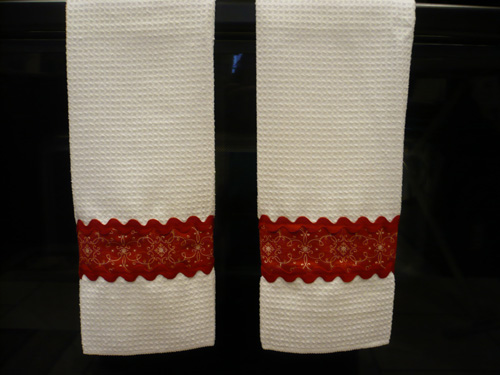 I remember as a kid that some kids gave their teachers Christmas gifts.  I don't think my mom ever did that…if she did I don't remember.
A friend of mine reminded me that in the school's directory there's all sorts of personal info about each teacher like their favorite restaurant, favorite place to shop etc.  Kind of like a huge hint on what to give them for Christmas.
Well, I didn't want to go out and get a gift card (I'm sure sometime in the future I will), and I wanted to give something homemade.  I decided that dish towels would be a nice festive gift.  The idea comes from Moda Bake Shop.
I originally bought the flour sack dish towels, but after washing, drying, and ironing them, I didn't like the way they looked, so I bought a 2-pack of microfiber white dish towels instead.  I also didn't use jelly roll strips…I just used some cute red and white fabric I already had.  To keep the fabric from fraying I cut each strip 1 inch wider and 1 inch longer than I wanted the finished strip to be.  I then pressed each edge 1/2 inch down (so if I wanted a 2.5 inch finished strip x 16 I would cut a 3.5 x 17 inch strip and press the 1/2 inch down all the way around the strip).
I love the result.
Don't you just love ric rac?