What a night!
I started sewing the binding onto the Baby Blues quilt, and I got to about 10 inches from the end and looked at the back of the quilt and this is what I saw: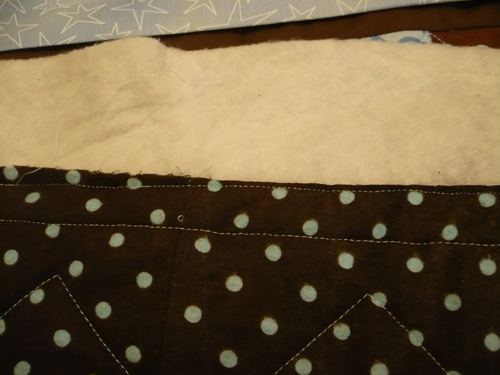 I gasped!  That stitching line closest to the edge of the fabric was the stitching line for the binding and at it's narrowest spot is less than 1/8 of inch…certainly not enough to hold the seam for the binding.  How could I have made such an error?  The backing wasn't big enough!!!!!  All I can figure was that when I sandwiched it together I forgot that the batting was wider than the backing and I centered the top on the batting instead of the backing.  Luckily it was just this one spot that was the problem.  So I ripped out the binding and was thankful that the quilting was straightline and that I didn't quilt up to the edge of the quilt top, then I added some extra backing and then reassembled (it took a few tries and I ripped out seams 3 or 4 times).  Had I done my usual meander quilting this error could've been disastrous!!!!
The backing is flannel.  It's the first time I've used flannel, and while it feels nice and cozy, it was really difficult to work with.  It's pretty bulky, and even with a walking foot I had a hard time with it.  I especially had a hard time getting the sandwich underneath the walking foot.  Not sure how much flannel I'm going to be using in the future.  Time will tell.