Two years ago I was very much a newby at quilting.  I had been quilting for all of 2 months, and we had a terrible ice storm.  We were in the house for an eternity and my hubby who was out of town on business could not get home because of all the ice.  So what's a quilter to do?  I ended up making 54 blocks.  My seam allowance consistency was awful, but hey I was new and I was having fun.  When I finished the blocks I had all the intentions of making a nice quilt with them, but away they were stashed in one of my drawers for the last 2 years.
I took the blocks out recently and studied them.  I love the cheerful colors and the mix of of small and large squares framed.  Each block was *supposed* to be a 12.5 inch square.  Ha!!!  I don't think any of them (ok, maybe a few) actually turned out that size.  So I decided to trim the blocks down to a 12 inch square.  Now the one thing I absolutely loathe about quilting is squaring my blocks.  These days I generally don't have to since my seam allowances are quite consistent, but these blocks needed it or else the quilt would have been a disaster!  Squaring the blocks actually took less time than I thought, and now I wish I had done this long ago and not waited 2 years!!!!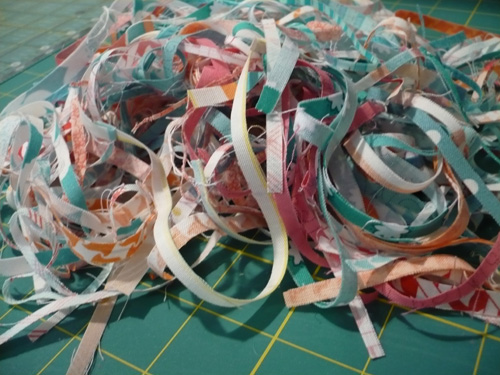 Fabric Trimmings
Anyway, the squaring is done, and I now have a nice new quilt top, which will be a later wedding gift.  Hmmmm, late wedding gifts seem to be a recurring theme….  I will also be creating another wedding gift quilt, which is, you guessed it, late.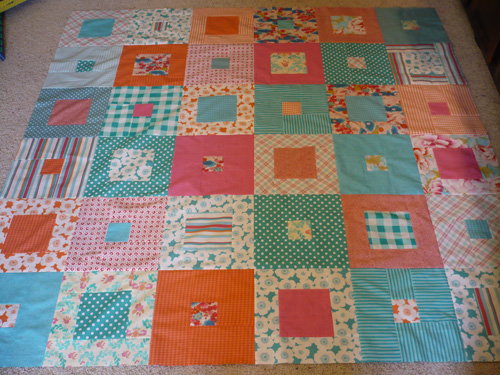 Variety of fabrics, but lots of Summer in the City by Urban Chicks for Moda