I completed the Giddy quilt top a few nights ago, and on Tuesday evening while we watched the Sugar Bowl (and sadly watched the Hogs lose), I decided to pin paste the quilt.
I got to the very last corner and finished the pin basting and realized this:
The top right block was sewn in the wrong direction!  I let out a very loud "Oh, no!!" It was PG since my kiddos were still awake.  This seems to be a recurring problem for me…sewing directional blocks.  I did the very same thing with the Ellie Fun quilt.  My hubby kept telling me not to worry about it especially since Giddy is for us (really, it's for me 😉 ), but I couldn't, because I knew it would bug me, and I love this fabric so much I wanted it to be "perfect."
So I unpinned that section and got out my handy seam ripper, and I got to work.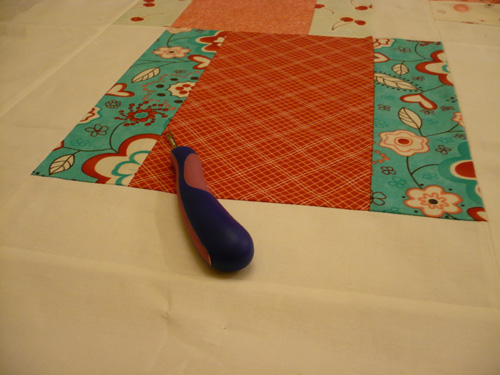 I then rotated the block and sewed everything back together, and then repinned that section.
Now that looks better, and more importantly I feel much better!