Spring Flowers is done! :)  And I LOVE it!!!!!!  For starters I used Camille's Baby Mine pattern.  The pattern is a great deal because you get 2 patterns for the price of 1–a girl quilt and a boy quilt.  I wasn't 100% sold on the flower applique pieces that go with the girl quilt.  So I hunted through my library of patterns and found one that I love…it's called French Roses by Heather French.  Some day I'm going to make an entire quilt of French Roses (I even have the fabric for it), but since that's down the road I figured I give the French Roses a whirl by substituting these flowers for the ones that came with the Baby Mine pattern.
The French Roses pattern  uses the soft edge applique technique, which I thought is perfect for a baby girl's quilt.  I'm certainly in love with soft edge applique!
I'm so glad I made this modification.  I think the French Roses flowers are softer, more feminine, and just downright adorable.
The quilt measured 40 x 50 prior to washing and measures 37 1/2 x 47 1/2 after washing…perfect size for a baby.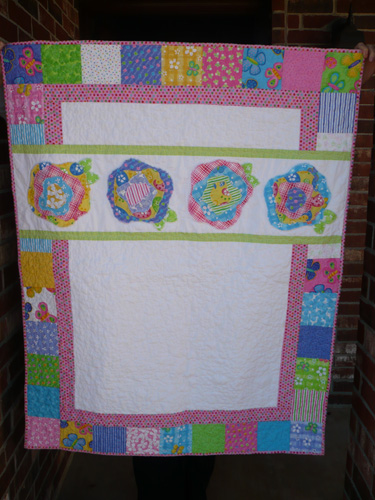 Front
Back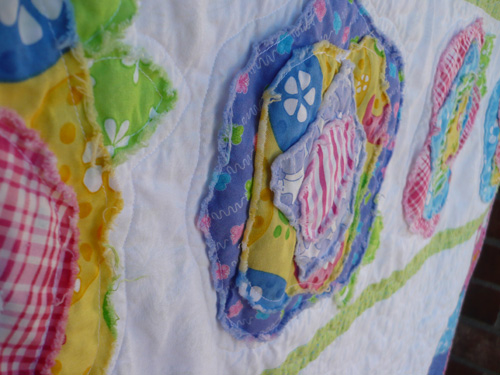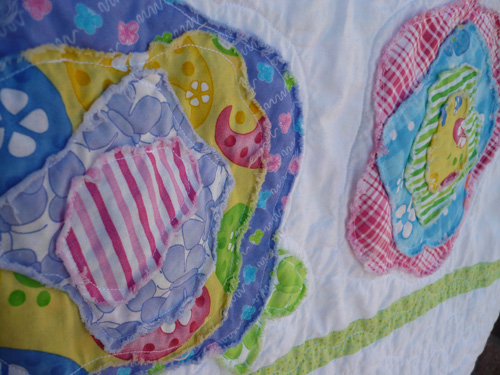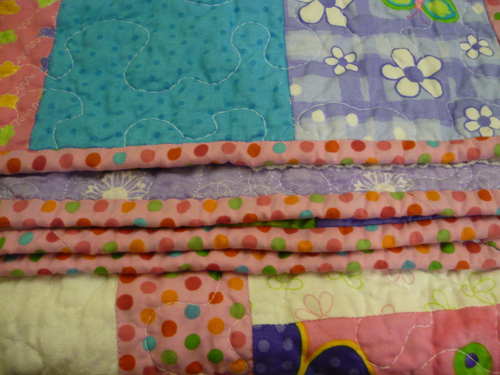 Polka dot binding matches the inner border
Label: I used a piece of muslin, cut the edges with pinking shears, wrote on it, then soft edge appliqued it to the quilt
Fabric: Butterfly Fling by Me & My Sisters Design for Moda, the white is a white on white design with butterflies, the polka dots and some of the fabrics in the flowers are from my stash.
Side note: I started working on an improv project tonight.  I got everything out and set up (machine, ironing board, started cutting fabric etc.), then went to sew, and my sewing machine won't sew! Grrrrrrr!  So I'm bringing it in tomorrow to get serviced, because one can't have a non working sewing machine when one NEEDS to sew! 😉