It's been a while since I've worked on quilting.  I've been so busy…we had house guests and then my oldest was sick.  I do most of my quilting in the evenings after the kiddos are in bed, but with the start of the fall tv season, I've discovered a few new shoes that I just love, so that means there is even less time to sew and quilt.
Anyway, I finished quilting the baby quilt, (still without a name), and last night I prepared the binding and sewed it to the front of the quilt.  Now I'm on to hand stitching the binding to the back of the quilt—a good task to do in front of the tv! 😉
Thanks to Jen and Emily for their suggestions on what to name this quilt.  I've narrowed it down to 2 options: (1) Caterpillar's Meadow (2) Pink-A-Boo.  Which one you like best?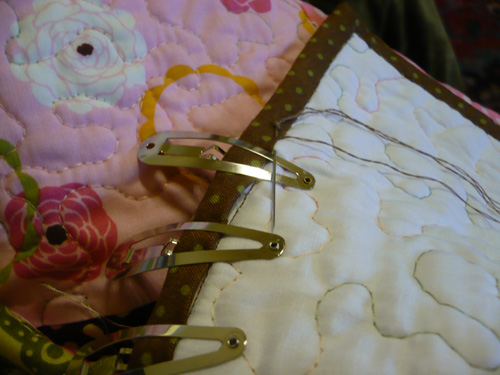 For the quilting I used Sulky Blendables Thread…I so love this thread!  I used #4026 Earth Pastels.  I've used the blendable thread before: Butterfly Fling Squares (#4102 Spring Garden); Mod Quilt Sampler (#4030 Vintage Rose); Red, White, & Bold (#4105 America).   If you've never used the blendales thread I totally recommend it as it blends really well when you have a top with lots of different colors and if you use a light solid back, the back looks really cool.  When I'm done with the quilt I'll take some closeups of the back and post the pictures.