I'm finding it hard to get motivated today.  I guess I should blame the long weekend, although I welcome long weekends with open arms!  Or maybe I should blame the weather…it's pretty warm (ok, it's down right hot), and it's overcast.  The overcast gets to me much more than the heat, and it's days like this I wonder how I ever lived in the Pacific Northwest, where it's overcast for about 9 months of the year.
Anyway, my mailbox was stuffed this afternoon.
Stuffed with goodness.
A few weeks ago I ordered some layer cakes and charm packs from Cotton Patch Quilting.  The Snippets layer cakes were on closeout for only $15 each and the Sultry charm packs were on closeout for $5.  How could I pass it up?  Well, I didn't, and I bought them out of the layer cakes and the charm packs.  And because my order got temporarily lost in translation (I blame cyberspace) they sent me 2 additional charm packs of the Hampton Blues.  Awesome!!!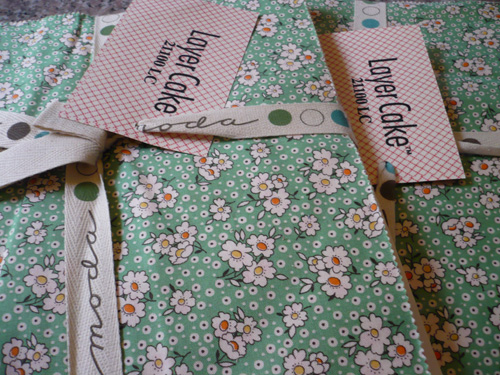 Snippets layer cake
Sultry charm packs
Surprise Hampton Blues
Not sure what I'm going to make with the Snippets layer cake, but perhaps one of these awesome paterns from Thimble Blossoms (pattern already ordered).  Perhaps a few of the Sultry charm packs will be made into a quilt that will be donated to a silent auction, and when I looked at the colors I realized that it goes perfectly with some Amy Butler fat quarters that I already have.  As for the surprise Hampton Blues, they are destined for a blue and white themed quilt that I've already started collecting fabric for.  The creative wheels are turning! 🙂
Oh, and on Friday I took Ellie to one of my LQS and we went to the basement, where the sales are.  They were having and extra big sale…all fabric in the basement was $4/yd.  I found this beautiful fabric by Free Spirit that retails for $9.50/yd and I just couldn't pass it up seeing that it was reduced to $4/yd.  The next big question was how much to buy.  Sale fabrics have a minimum of 1 yd, but I really liked this fabric.  One of my next quilts is going to be a simple red and aqua squares (probably 4 inch squares), and this fabric would be perfect for the backing, squares, and/or binding.  So I did what any rational quitler does at a sale like this…I bought the entire bolt!  They only charged me for 7 yards (they guessed how much and then rounded down).  So for now the bolt sits next to my ever increasing fabric collection (no longer a stash, but a collection).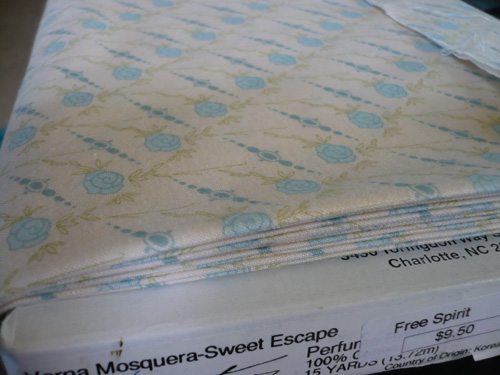 ps: optimized for firefox