We are leaving tomorrow for vacation.  My plan all along was to bring my sewing machine in today for a good cleaning, and since we we would be out of town I wouldn't miss it.  Then yesterday I got the quilting itch.  I got out the Ellie Fun quilt top and backing and went to work getting the sandwich together and pinning the whole thing…all by myself.  It's the first time I've gotten a sandwich this size together all by myself!
Then I got to quilting.  I usually quilt in the evenings after the kiddos are off to dreamland.  Uncharted territory here to quilt during the day.  Everything was going great (except for the many interruptions to diffuse the "Ellie's bothering me" or the "TT hit me" etc–must have been something in the air because they were at each others throats all day long!) until I was just under halfway done with the quilting, and then my upper tension went crazy.  I tried everything I knew, and nothing worked, and I couldn't even thread the bobbin without the thread snapping when the bobbin was only 1/4 full.
So there went my plans (and sanity).  I so wanted to have this quilt quilted, and binding attached, so I could bring the quilt with me and hand sew the binding to the back of the quilt while poolside.  Well, it's just not going to happen.
I packed up my machine and brought it to the shop this morning, and it should be all done and ready to finish this quilting project when we get back.
Quilting will resume in the evenings after the kiddos are off to dreamland when we return from vacation.  Superstitious?  Perhaps.
So, until it's done, here's what I have so far: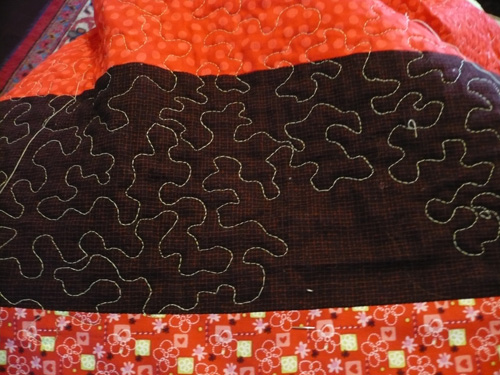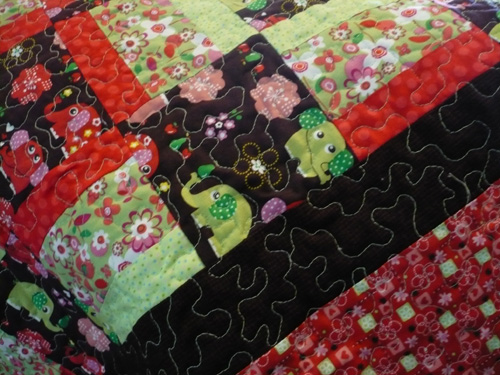 Quilted with lime green thread (I really like the contrast on the brown)